[

2002-04-05

]
Here Are Some Pictures (Of My Car)
for ease of stalking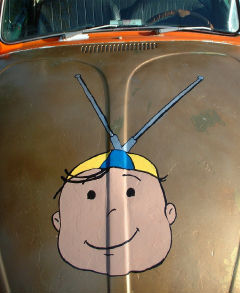 This fellow
needs no introduction. Here he is, on the hood and lookin' sharp.
This is not my first
giant hand-drawn Petey
, but it is my first in color. I figured his beanie would be blue and yellow, like the famed Pel-Freez box. I mixed his skin color myself, out of Krylon Short Cuts brand taupe, fluorescent orange and brick red. Yellow too, I think.
Next
picture 1
picture 2
picture 3
picture 4
picture 5
picture 6
picture 7